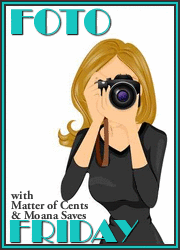 Welcome to Foto Friday hosted by Matter of Cents and Moana Saves. We're so glad you're here and we would love for you to join in the fun! Foto Friday is a meme similar to "Wordless Wednesday" where you can post a photo from your blog, link up here, and find others.
The only difference: it's not "wordless". You can include a caption or short description. Leave the URL to the post with your photo. Also, since it's a Thumbnail linky, please use the photo you are linking up (no logos please) so everyone can see a preview of the image. The linky will go "live" each Thursday evening at 7:01pm and close at 6:59pm Central Time.
We do ask that you please follow (via GFC) the two host blogs, Matter of Cents and Moana Saves. Also, consider visiting the other blogs in the linky and follow them. If you'd like a follow back, be sure to leave a comment on that blog.
Our Foto Friday linky is family-friendly, nothing obscene or inappropriate, please! Help yourself to the Foto Friday button (in the side bar) to put on your FF posts or to add to your side bar.
If YOU would like to be a Foto Friday Guest Host, CLICK HERE to fill out the form. We will randomly select someone each week.
This week's Guest Host is Angela from Fab Find Foodie! Please be sure to stop by her blog, follow her, and say "hello". I know she would LOVE to hear from you.